The year 2010 is about to end.My readers know about my love for brand AMUL and its scintillating ads.So ,here is a wrap up based on a random selection of lovely Amul Hits of this season-for your viewing pleasure.S..L..U..R..P…They are YUMMY,aren't they ??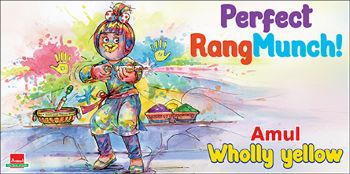 Unaffordable escalating price of onions – Dec '10

Chief Minister of Bihar re-elected with a sweeping majority – Nov '10

Phone tapping & 2G spectrum scam- Dec'10

Top Industrialist brothers competing with one another
in building their private mansion in Mumbai – Dec '10

Sachin Tendulkar, the first batsman to score 50 test centuries – Dec '10
Lets hope AMUL will continue with its topical ads to make us smile,cry,laugh,enjoy,celebrate,curse, (list of emotions is endless!) with the daily happenings in Mera Bharat Mahaan in the new year.
Let us unanimously say

:"Mera AMUL Mahaan !"